According to an article in the most recent addition of Transport Topics, there has been a huge leap in Class 8 vehicle sales this summer. This marked increase includes a total of 19,373 units sold in June, one of the highest monthly totals since the last big surge in truck sales, almost eight years ago. This first half of the year has seen a 16.3% increase compared to the same time frame last year as well. And while the success of the trucking industry in general is widely acknowledged, two of Daimler Trucks North America's brands are doing particularly well: Freightliner and Western Star.
As a dealer of both top-selling brands, Baltimore Freightliner-Western Star is thrilled to see the impressive sales figures appearing this year and proud to be a part of them. Freightliner, always in the top spot of trucking brands, rose in sales by 19.2%. Western Star was second place in the market share, and increased its individual sales by a whopping 48.2%.
So what exactly is the driving force behind this sales surge? Transport Topics cites improving technology and related innovations as a big part of the appeal. Those in the trucking industry who have been relying on older models and fleets for years are seeing the value of improved fuel economy and efficiency of new truck models, and are looking to stay on the cutting edge in their field. Baltimore Freightliner-Western Star knows that as a go-to vendor of both these successful brands, they are representing quality products that have clearly been impressing people nationwide.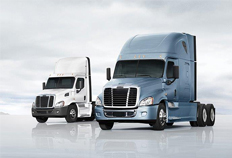 If you're in the trucking business or are looking to expand your business through trucking, call on Baltimore Freightliner-Western Star to take care of your trucking needs. You can call toll-free at 800-832-7278 or locally at 410-685-4474. You can also shoot us an email with your questions or concerns at info@baltimorefreightliner.com.
Since 1986, Baltimore Freightliner-Western Star has provided top quality service for the trucking industry. Whether you need to purchase specialized truck parts from our expansive inventory, expand your fleet with our selection of top-tier trucks, or have your company's trucks serviced or repaired, Baltimore Freightliner-Western Star is the best choice in trucking. Become one of our many satisfied customers today!
Be sure to follow us on Google+ and find us on Facebook to stay up-to-date on all the latest from Baltimore Freightliner-Western Star. Follow us on Twitter too: @bmorefreight.
Source:
Transport Topics News
Tags: Freightliner, trucking sales, Western Star