In Daimler Trucks North America's constant quest to improve both service and customer experience in new and innovative ways, the Virtual Technician remote diagnostic service was installed on its 100,000th truck since its launch back in April of 2011. And how exactly does the Virtual Technician technology help drivers and fleet owners on a day-to-day basis? Read on to find out more.
Virtual Technician Keeps a Real-Time Eye on your Truck's Performance
Usually when your check engine light switches on, you have to guess at what has gone wrong before taking your truck in to your mechanic. With Virtual Technician, however, the guess work and waiting is eliminated. Virtual Technician checks on engine faults and lets drivers and fleet owners gain a better idea of what issues their truck is experiencing before they even pull into the parking lot of the shop. VT, as it's known, was first launched in the Cascadia model, but has now become a standard installation on the majority of Freightliner and Western Star vehicles on the market. Not only does the data provided by Virtual Technician keep drivers aware of any impending problems, but it makes for an overall safer driving experience out there on the road. Improving the functionality of trucks also means saving money on expensive, last-minute repairs, a benefit any fleet owner can surely agree with.
Interested in learning more about Virtual Technician or other Daimler Truck technologies? Check back in with us here at Baltimore Freightliner-Western Star for the latest in trucking news.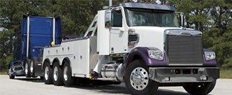 Baltimore Freightliner-Western Star
If you're in the trucking business or are looking to expand your business through trucking, call on Baltimore Freightliner-Western Star to take care of your trucking needs. You can call toll-free at 800-832-7278 or locally at 410-685-4474. You can also shoot us an email with your questions or concerns at info@baltimorefreightliner.com.
Since 1986, Baltimore Freightliner-Western Star has provided top quality service for the trucking industry. Whether you need to purchase specialized truck parts from our expansive inventory, expand your fleet with our selection of top-tier trucks, or have your company's trucks serviced or repaired, Baltimore Freightliner-Western Star is the best choice in trucking. Become one of our many satisfied customers today!
Be sure to follow us on Google+ and find us on Facebook to stay up-to-date on all the latest from Baltimore Freightliner-Western Star. Follow us on Twitter too: @bmorefreight.