When it comes to shipping and transporting certain things for your business, cramming everything into a single van may not cut it. On the flip-side, however, a fully-loaded tractor-trailer might be a little oversized for the task at hand. In such situations, Baltimore Freightliner-Western Star recommends thinking of finding that perfect place in the middle: a medium-duty truck. What are medium-duty trucks used for, and how can you find the perfect one to enhance your business? Read on to find out more!
Medium-duty trucks can be used for a number of different applications, depending on the needs of your company. You'll find that many who focus on landscaping, deliveries, or smaller-scale moving use medium-duty trucks. The main benefit of these kinds of trucks, which typically fall into Classes 4, 5, and 6, is that they have the strength to contend with heavier loads and more demanding practices while still remaining a manageable and affordable size model for the average business owner.
Knowing if a medium-duty truck is right for you depends on knowing the weight and size of your average hauls. A load larger than 20,000 pounds will require a heavy-duty truck, but for smaller hauls and businesses a medium-duty truck is often the ideal fit. Are you worried about how much you will get out of your investment? Most medium-duty trucks are not even considered old until they've reached 500,000 miles and will last you for years to come. And for regular maintenance and body work, Baltimore Freightliner-Western Star is here to help!
Are you thinking of purchasing a medium-duty truck or need one serviced? Call on us today for more information.
Baltimore Freightliner-Western Star
If you're in the trucking business or are looking to expand your business through trucking, call on Baltimore Freightliner-Western Star to take care of your trucking needs. You can call toll-free at 800-832-7278 or locally at 410-685-4474. You can also shoot us an email with your questions or concerns at info@baltimorefreightliner.com.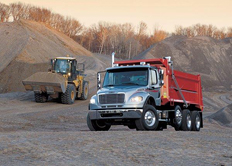 Since 1986, Baltimore Freightliner-Western Star has provided top quality service for the trucking industry. Whether you need to purchase specialized truck parts from our expansive inventory, expand your fleet with our selection of top-tier trucks, or have your company's trucks serviced or repaired, Baltimore Freightliner-Western Star is the best choice in trucking. Become one of our many satisfied customers today!
Be sure to follow us on Google+ and find us on Facebook to stay up-to-date on all the latest from Baltimore Freightliner-Western Star. Follow us on Twitter too: @bmorefreight.
Source:
http://www.businessfleet.com/article/story/2006/01/first-timers-guide-to-the-medium-duty-truck.aspx
Tags: Baltimore, medium-duty trucks