The trucking industry's growing trend of making significant improvements to their truck models has been taken up by Western Star. According to a recent piece in Fleet Owner, Western Star has introduced the Neway ADZ series of axle air suspensions for its 4800, 4900, and 6900 truck models. The Neway ADZ axle air suspension series is designed specifically for heavy-duty trucks, and the fact that some of Western Star's most popular models are now available with it is great news for trucking enthusiasts everywhere.
According to SAF-Holland, the company that makes the Neway ADZ series, their design is a streamlined, lighter-weight axle air suspension, which reduces overall weight while still providing top-quality performance. Because lighter vehicles also get better overall mileage, this design is well-suited for those looking to improve their trucks' fuel efficiency.
The Neway ADZ axle also accounts for a variety of different truck designs; its integral lower control arm module helps it stabilize and support vehicles that have a higher center of gravity than normal, making it a safe option for truck drivers.
Western Star's heavy-duty trucks are designed to withstand many rough conditions, from weather to heavy shipping loads to poorly constructed pavement. The addition of the Neway ADZ series just makes them that much tougher and better prepared for the road ahead.
Do you have questions about Western Star trucks , parts, and maintenance? Call Baltimore Freightliner-Western Star today for more information.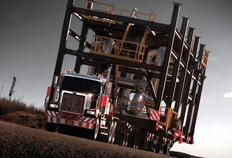 Baltimore Freightliner-Western Star
If you're in the trucking business or are looking to expand your business through trucking, call on Baltimore Freightliner-Western Star to take care of your trucking needs. You can call toll-free at 800-832-7278 or locally at 410-685-4474. You can also shoot us an email with your questions or concerns at info@baltimorefreightliner.com.
Since 1986, Baltimore Freightliner-Western Star has provided top quality service for the trucking industry. Whether you need to purchase specialized truck parts from our expansive inventory, expand your fleet with our selection of top-tier trucks, or have your company's trucks serviced or repaired, Baltimore Freightliner-Western Star is the best choice in trucking. Become one of our many satisfied customers today!
Be sure to follow us on Google+ and find us on Facebook to stay up-to-date on all the latest from Baltimore Freightliner-Western Star. Follow us on Twitter too: @bmorefreight.
Source:
http://fleetowner.com/equipment/western-star-now-offering-neway-adz-suspensions?eid=forward
Tags: heavy duty, Neway ADZ, Western Star