Baltimore Freightliner-Western Star's parent Daimler Trucks North America (DTNA) has exceeded even its own expectations this summer by achieving every one of its expansive SuperTruck program goals an entire year in advance. The goals were set back in early 2010 and were expected to take at least five years to meet, but DTNA's commitment to excellence has gotten them there ahead of schedule.
DTNA partnered with the U.S. Department of Energy when it first implemented the SuperTruck program. The focuses of the program were centered on performance and eco-friendly initiatives, including improving the efficiency of DTNA truck designs, cutting back on fuel consumption and use, and reducing greenhouse gas emissions.
Programs focused on creating fuel-efficient and sustainable truck designs are of paramount importance in the industry; cutting back on fuel usage means that trucking becomes more affordable, reliable, and practical for the modern world. Increasingly, we are seeing hybrid and electric engine options being investigated, and "going green" in the trucking industry seems like a trend that is here to stay.
Of course, having met the SuperTruck goals a year in advance doesn't mean that DTNA is going to stop with their efforts. In fact, they are using the positive results of the initial SuperTruck goals to inspire new plans and innovations that will keep DTNA at the top of the trucking industry. Baltimore Freightliner-Western Star is proud to be a subsidiary of Daimler Trucks North America and to be participating with them in this exciting move towards the future of trucking.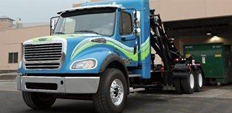 If you're in the trucking business or are looking to expand your business through trucking, call on Baltimore Freightliner-Western Star to take care of your trucking needs. You can call toll-free at 800-832-7278 or locally at 410-685-4474. You can also shoot us an email with your questions or concerns at info@baltimorefreightliner.com.
Since 1986, Baltimore Freightliner-Western Star has provided top quality service for the trucking industry. Whether you need to purchase specialized truck parts from our expansive inventory, expand your fleet with our selection of top-tier trucks, or have your company's trucks serviced or repaired, Baltimore Freightliner-Western Star is the best choice in trucking. Become one of our many satisfied customers today!
Be sure to follow us on Google+ and find us on Facebook to stay up-to-date on all the latest from Baltimore Freightliner-Western Star. Follow us on Twitter too: @bmorefreight.
Source:
TruckingInfo
Tags: DTNA, fuel efficiency, SuperTruck program