With summer blockbuster season in full swing, all of your favorite stars can be spotted in the top Hollywood hits of 2014. But there is one star we bet you didn't expect to see while enjoying the latest films (and lots of buttery popcorn): Western Star. That's right- a custom-built Western Star truck features as the new Optimus Prime truck in the latest addition to the multimillion dollar franchise, "Transformers."
It's not every day that a Western Star truck can be seen driving on the big screen, but with its top quality design, you can't deny it has the X-factor needed by most movie stars. The director of the "Transformers" franchise, Michael Bay, introduced the world to the latest, most buzz-worthy celebrity on his blog recently; he featured pictures of the Western Star Optimus Prime truck, as well as some of the other vehicular vedettes of the fourth installment of the series, which stars Academy Award nominee Mark Wahlberg. But though the other cars featured in the film are wonderful designs, the top billing really goes to the Western Star, with its custom red and blue flames and chrome detailing. Baltimore Freightliner-Western Star's team of custom paint job designers give it their seal of approval!
Check out the pictures of the Western Star Optimus Prime truck below, and be sure to catch it cruising down the road in the latest "Transformers" movie this summer!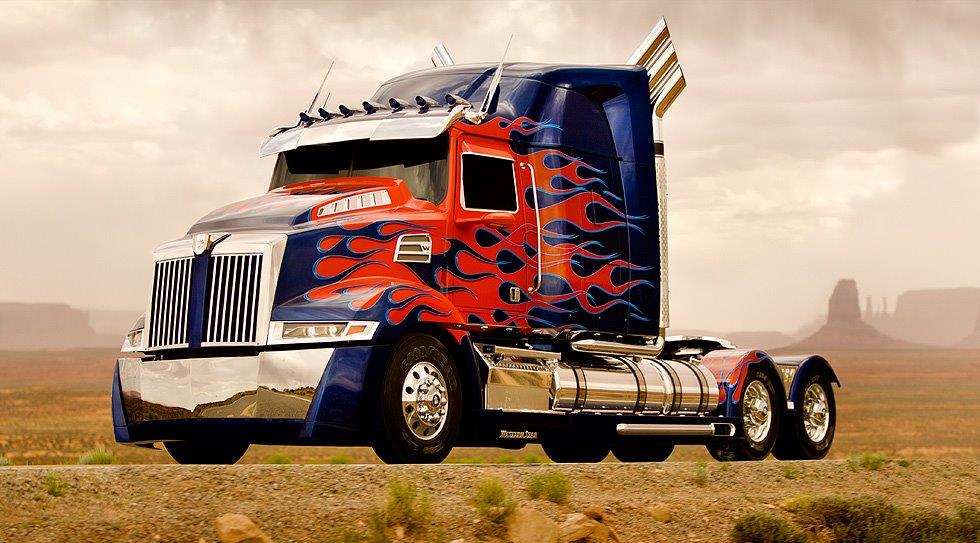 If you're in the trucking business or are looking to expand your business through trucking, call on Baltimore Freightliner-Western Star to take care of your trucking needs. You can call toll-free at 800-832-7278 or locally at 410-685-4474. You can also shoot us an email with your questions or concerns at info@baltimorefreightliner.com.
Since 1986, Baltimore Freightliner-Western Star has provided top quality service for the trucking industry. Whether you need to purchase specialized truck parts from our expansive inventory, expand your fleet with our selection of top-tier trucks, or have your company's trucks serviced or repaired, Baltimore Freightliner-Western Star is the best choice in trucking. Become one of our many satisfied customers today!
Be sure to follow us on Google+ and find us on Facebook to stay up-to-date on all the latest from Baltimore Freightliner-Western Star. Follow us on Twitter too: @bmorefreight.
Source:
http://www.equipmentworld.com/photos-western-stars-redesigned-optimus-prime-and-other-new-characters-for-transformers-4/#sthash.R0vRchG3
Tags: truck news, Western Star