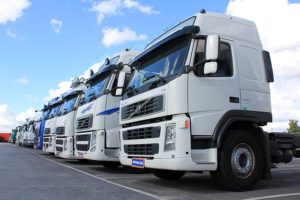 Many people gravitate to trucking as a career because it offers the opportunity to travel to new places and "be your own boss." While it's true that trucking gives you lots of independence and you don't have a supervisor over your shoulder, you need to remember that you're really not a one-person-band. There is a whole fleet of people involved in the process, from the mechanics who keep the trucks running to the office personnel who assign the jobs. Remembering this will help you have a successful career when you're driving for a company.
They Know You
It is important to remember that the people in the office know a lot more about you than you do about them. In fact, they know how safe you are, how hard you run, and how punctual you are. They track how long you idle and so many other statistics about your performance on the road. There may be hundreds of truckers in the fleet, but they still know about you specifically. Their knowledge of you extends past these statistics, however. They also have a sense of your personality from their interactions with you. And it is the subjective sense of you that will drive their decision making as much as the data they've collected. This is especially true if you ever need help with a special request or favor.
People Skills Matter
It is also important to remember that truckers tend to have very different personalities than office workers. If you tend to be very direct and say exactly what is on your mind, it could come off as confrontational, especially if you're dealing with personality types that avoid confrontation. Having good people skills is about more than just talking to the office staff too. You interact with your dispatcher, of course, but you will also interact with DOT personnel, dock workers, other drivers on the road (not just other truckers), auditors, mechanics, and others. Having good people skills is important in all of the interactions you have every day. 
Kindness Wins
The bottom line is that in the end, kindness will turn a better outcome than rudeness; remember the old saying about honey and vinegar. If you put in the effort to be kind to the people you interact with, they will be more likely to help you out when you need it. This doesn't mean that you need to be "fake" simply that you need to remember that different people perceive things differently and that rudeness is as bad as any rookie mistake.
Baltimore Freight-Liner Western For All Your Trucking Needs
Whether you are looking to upgrade your fleet to tow trucks or simply interested in the latest trucking technology, you can rely on Baltimore Freightliner-Western Star. We have provided top-notch service for the trucking industry for 30 years and would love to assist you in buying a new top-of-the-line truck, finding the specialty parts you need, or repairing your truck. Give us a call toll-free at 800-832-7278 or locally at 410-685-4474, or contact us online. To find out more about what we are up to, follow us on Facebook, Twitter, and Pinterest.
Tags: trucking basics, trucking companies, trucking lifestyle